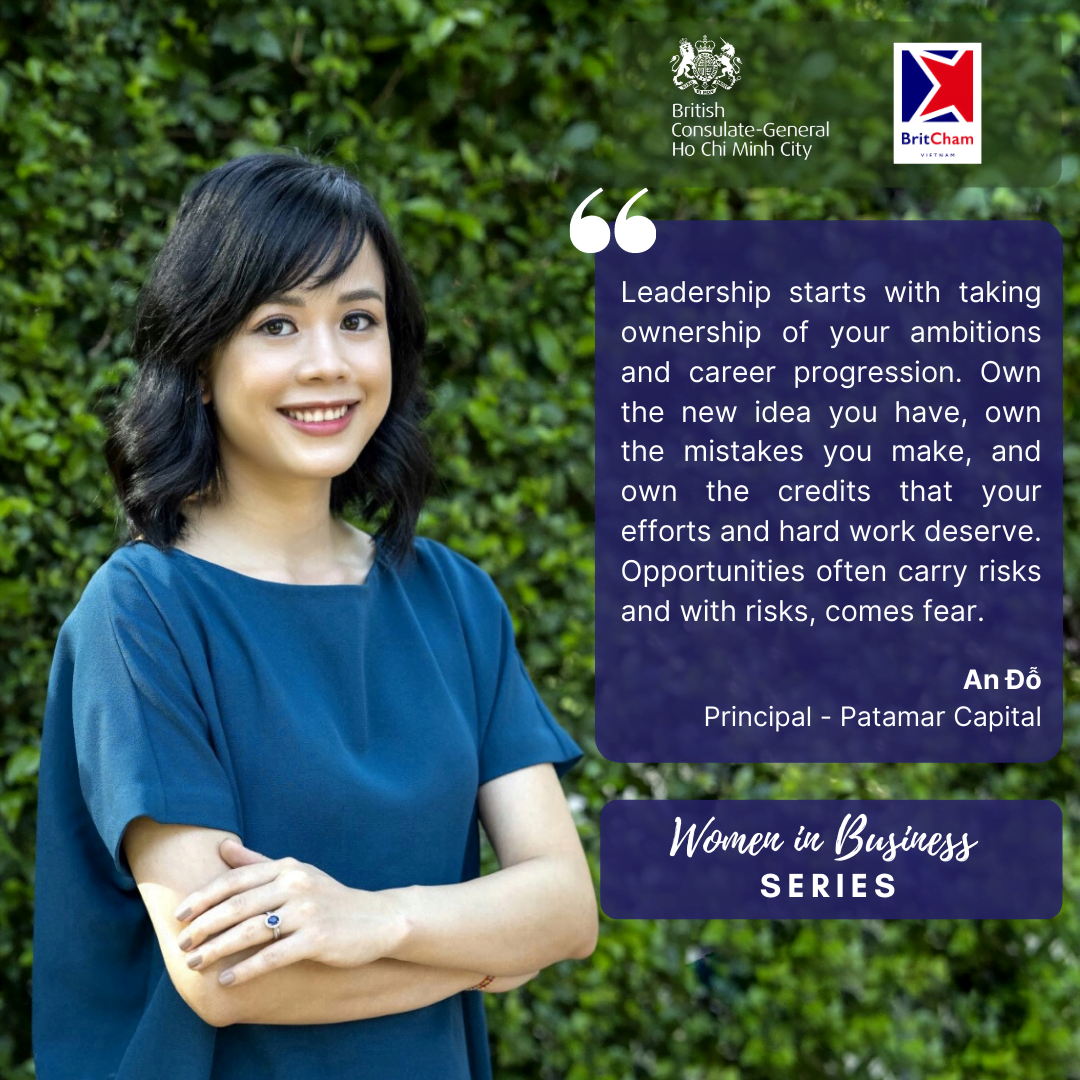 1.Could you please share a bit about yourself and your organisation? 
I am An Do, currently a Principal at Patamar Capital and leading the firm's investment activities in Vietnam. Patamar is the leading regional impact investment fund in South East Asia, with offices located in 6 countries and more than 20 companies in our portfolio. We back early-stage technology start-ups serving the low to middle income consumers or small-to-medium enterprises in the region, across a wide spectrum of sectors. Some of our portfolio companies in Vietnam include Topica (edtech), Jupviec.vn (on-demand staffing platform), and Kim An Group (fintech).
Prior to joining Patamar, I had lived and worked for 13+ years in London, UK. I was a Vice President in DWS London, a major private equity fund in Europe with $10 billion of assets under management. I graduated from the London School of Economics with a Bachelor in Economics.
2.What do you think about the challenges of COVID-19 and how did your organization support your employees in COVID-19?
2020 was a particularly challenging year for the start-up community as companies had to switch from scaling mode to survival mode as the pandemic affected. When COVID-19 started sending shockwaves across South East Asia, as a team, we prioritised supporting our founder community in mitigating COVID risks and revising their playbooks. We were fortunate to have witnessed an unprecedented level of preparedness and resilience among our founders as they navigated through this period of economic uncertainty.
At Patamar, the firm has been extremely supportive in offering flexible working arrangements for all employees. We are equipped with all the cloud-based tools to enable remote working while maintaining close collaboration among team members. In addition to full health insurance cover, Patamar also offers all employees a monthly wellness allowance to support our overall well-being needs and promote healthy lifestyles.
3.What advice would you give other women wanting to develop their career and aiming at leading positions at work?
Just own it. Leadership starts with taking ownership of your ambitions and career progression. Own the new idea you have, own the mistakes you make, and own the credits that your efforts and hard work deserve. Opportunities often carry risks, and with risks, comes fear. Human nature does not allow us to choose whether or not to be afraid but we can choose whether or not to take the plunge. Finally, make sure you are having fun in the process!
---
1.Chị có thể vui lòng chia sẻ một chút về bản thân và tổ chức của bạn?
Tôi là An Đỗ, hiện là Giám đốc tại Patamar Capital và là người lãnh đạo các hoạt động đầu tư của công ty tại Việt Nam. Patamar là quỹ đầu tư có tầm ảnh hưởng ở các khu vực hàng đầu ở Đông Nam Á, với các văn phòng đặt tại 6 quốc gia và có hơn 20 công ty trong danh mục đầu tư của chúng tôi. Chúng tôi hỗ trợ các công ty công nghệ mới khởi nghiệp tập trung vào nhóm người tiêu dùng có thu nhập trung bình – thấp hoặc các doanh nghiệp vừa và nhỏ trong khu vực ở nhiều lĩnh vực. Một số công ty trong danh mục đầu tư của chúng tôi tại Việt Nam bao gồm Topica (công nghệ giáo dục), Jupviec.vn (nền tảng cung cấp nhân lực theo yêu cầu) và Kim An Group (công nghệ tài chính).
Trước khi gia nhập Patamar, tôi đã sống và làm việc hơn 13 năm tại London, Vương quốc Anh. Tôi từng là Phó chủ tịch của DWS London, một quỹ đầu tư tư nhân lớn ở Châu Âu quản lý khối tài sản 10 tỷ đô. Tôi tốt nghiệp Cử nhân Kinh tế tại Trường Kinh tế và Khoa học Chính trị London.
2.Chị nghĩ gì về những thách thức của COVID-19 và doanh nghiệp chị đã có có những chính sách hỗ trợ nhân viên trong dịch COVID-19 như thế nào?
Năm 2020 là một năm đặc biệt thách thức đối với cộng đồng khởi nghiệp khi các công ty phải chuyển từ cơ chế mở rộng quy mô sang cơ chế tồn tại. Khi đại dịch COVID-19 bắt đầu tạo nên làn sóng chấn động khắp Đông Nam Á, chúng tôi ưu tiên hỗ trợ cộng đồng thành viên sáng lập giảm thiểu những rủi ro do COVID gây ra và sửa đổi chiến lược hoạt động. Chúng tôi đã may mắn khi chứng kiến sự chuẩn bị kỹ lưỡng và sự kiên cường chưa từng có của những thành viên sáng lập để vượt qua giai đoạn kinh tế bất ổn này.
Tại Patamar, công ty đã hỗ trợ nhân viên rất nhiều bằng cách khuyến khích thời gian làm việc linh hoạt. Chúng tôi được cung cấp các công cụ trên nền tảng điện toán đám mây để nhân viên có thể làm việc từ xa mà vẫn đảm bảo được sự phối hợp nhịp nhàng. Ngoài bảo hiểm y tế toàn diện, Patamar còn cung cấp cho tất cả nhân viên một khoản trợ cấp chăm sóc sức khỏe hàng tháng để hỗ trợ sức khỏe tổng thể và thúc đẩy lối sống lành mạnh.
3.Chị có thể đưa ra một số lời khuyên cho những phụ nữ muốn phát triển sự nghiệp và hướng đến các vị trí lãnh đạo trong công việc?
Hãy làm chủ.
Lãnh đạo bắt đầu bằng việc làm chủ khát vọng và triển vọng nghề nghiệp của mình. Làm chủ những ý tưởng mới mà bạn có, những sai lầm mà bạn mắc phải và sự tín nhiệm mà bạn đã nỗ lực và chăm chỉ đạt được. Cơ hội thường đi kèm với những rủi ro, và rủi ro thường đi kèm với sự sợ hãi. Bản chất con người không cho phép chúng ta lựa chọn mình có sợ hay không, nhưng chúng ta có thể lựa chọn dấn thân hay không. Cuối cùng, hãy chắc chắn rằng bạn vẫn đang tận hưởng quá trình đó!