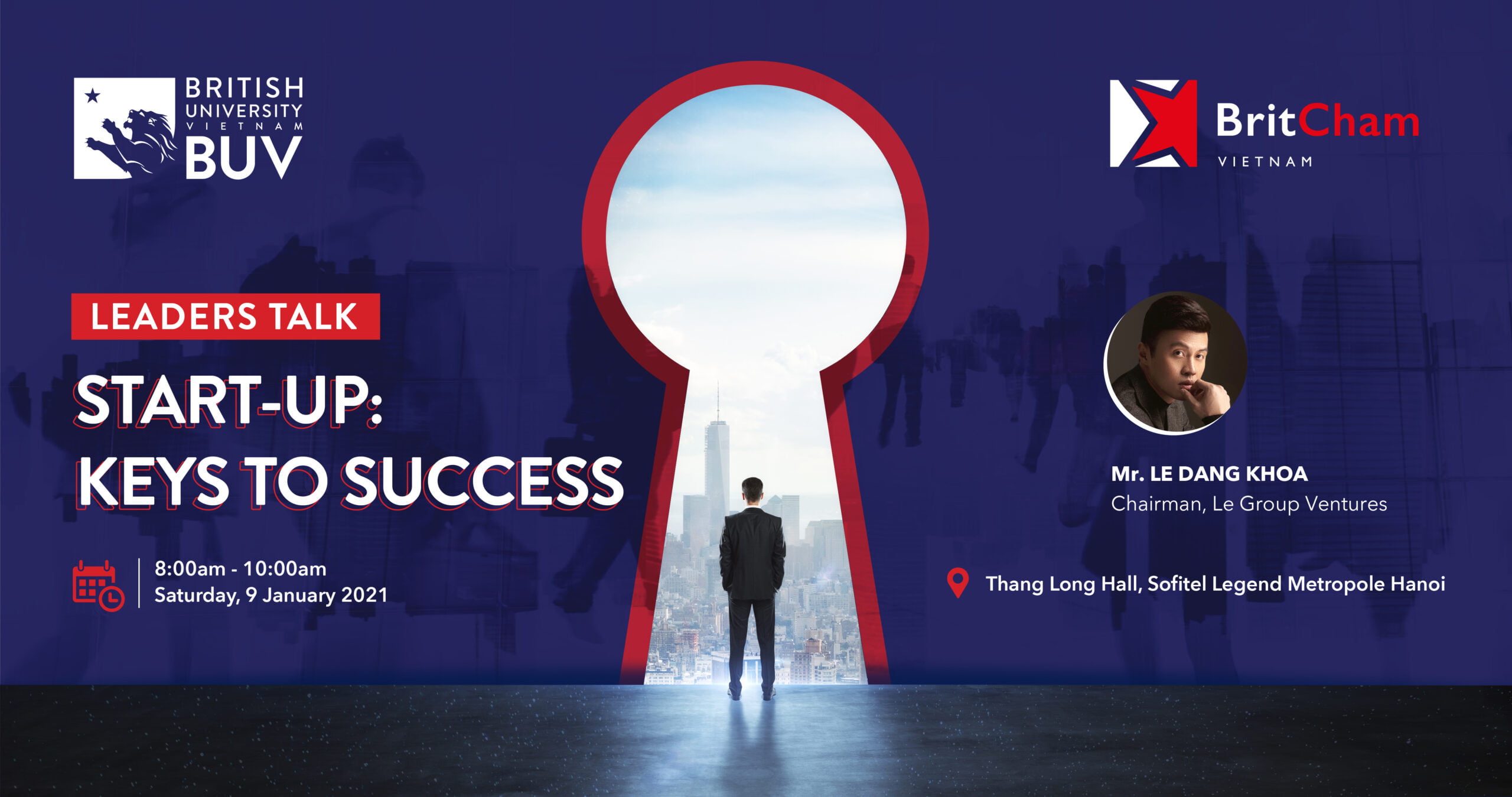 Supported by BritCham, British University Vietnam (BUV) will kick off the first event in the series called "Leaders Talk" on January 9th, 2021 for mid-level to senior managers as well as those striving for career advancement. Our guest speaker, Shark Khoa, will be sharing about "Start-up: Keys To Success".
From industry insights to valuable personal experience, Mr. Le Dang Khoa, Chairman of Le Group Ventures which has invested in over 20 start-ups, will bring to the talk: start-up essentials, core values, the most important success factors, and the key element to invest in (people versus ideas).
The event is moderated by Dr. Joao Fialho Ferrao, MBA (Master of Business Administration) Programme Leader at BUV. Highly experienced in mathematics research, Dr. Joao is lecturer for several universities across the globe and economic analyst for many multinational corporations. He is also currently coordinator of two start-ups in data science.
"Start-up – Keys To Success" is the first topic of "Leaders Talk", a series aimed at providing opportunities for participants to access valuable and practical business knowledge, engage with industry speakers and experts to expand professional networks, as well as become a member of a prestigious community connecting leaders.
The "Leaders Talk" series is part of BUV's "Leaders Link" programme, built to create a platform where knowledge, experience and ideas are shared. Industry talks and networking events are among the various activities the programme will have to offer. Through "Leaders Link", BUV and BritCham wish to bring career-oriented individuals closer to success.
Event info:
Topic: "Leaders Talk: Start-up – Keys To Success"
Date and time: 8:00 – 10:00am, Saturday, 9 January 2021
Venue: Thang Long Hall, Sofitel Legend Metropole, 15 Ngo Quyen Street, Hoan Kiem, Hanoi
*Free entry. Limited seats. Register now via https://leaderstalk.buv.edu.vn, or contact 096 662 9909 and [email protected] for more information.