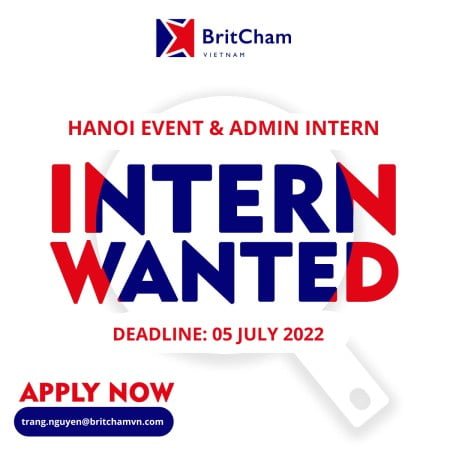 ABOUT BRITISH CHAMBER OF COMMERCE VIETNAM (BRITCHAM VIETNAM)
BritCham Vietnam represents British businesses in Vietnam and promotes value-added links between its members as well as with its external stakeholders, which include the British community in Vietnam, the British government, the local community, other businesses in Vietnam and the Vietnamese government.
Job title: Event & Admin Intern – Hanoi Based
Type: Full Time
Contract type: Full-time Internship
Reporting Line: Hanoi Event Manager
Time: July to end of October (40 hours/ week from Monday to Friday)
Role Summary:
The Event & Admin Intern is responsible for supporting the design and delivery of the Events along with daily admin tasks for the British Chamber of Commerce Vietnam in Hanoi under the guidance of the Event Manager.
Job description:
Events: Support the Hanoi Event Manager to deliver logistics tasks for BritCham Vietnam events in Hanoi. This responsibility may include, but not exclusively, the following tasks:
Support the planning, strategy and execution of BritCham Vietnam events to ensure a high-quality level of delivery.
Supporting the design of marketing materials relevant to each event.
Propose the content to promote events on social media, and respond to enquiries from participants.
Follow up with sponsorship contracts to ensure that it is finalised.
Follow up with the required financial reports and payments for events.
Others
Daily admin tasks
Keep track and cascade correspondence in and out
Support other team members (if needed)
Benefits
On-the-job training and practical experience
Working with high-profile partners, governments and a progressive, dynamic team
Network development across various industries
Diplomatic/business meetings and events
Candidate requirements:
University student/graduate with a degree in Marketing & Design, International Business, Events Management or other relevant majors
Excellent written and spoken English (IELTS / TOEFL certification would be a plus)
Strong Vietnamese language skills
Strong interpersonal and communication skills
Strong initiative and ability to work independently delivering high-quality results
Good working knowledge of Microsoft Office
Fluent use of design software is a must.
How to apply
Please send your CV to Ms. Quynh Trang at [email protected] by Tuesday, 5th July 2022 with the title [BritCham2022] – Event & Admin Intern – Full Name. Suitable candidates will be subjected to an interview in Hanoi.